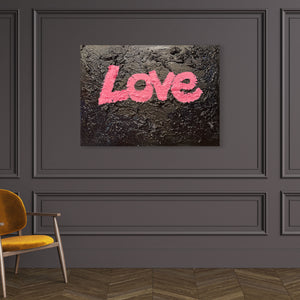 This is an authentic painting - dated 2021. From collection "Love Will save Us" This contemporary piece is original, unique & only one made. Comes with signed authenticity certificate 
 
About Canvas:
Original painting;
Wooden frame beneath;
Acrylic paint;
Signed on the back;
Made with foam;
authenticity certificate on the back.

Size:
One hundred ten cm on eighty 
cm (110 x 80 cm).

Care:
Painting may be lightly brushed with a feather duster;
Painting must not be cleaned with any other cleaning materials.